Today's post is written by a CAMA staff member serving in Asia.
Reaching the Unreached
In 2021, CAMA provided $162,000 for COVID-19 relief efforts to three countries in South Asia. This was significant not just because of the generosity of The Alliance family that made it all possible, but because according to Joshua Project, these locations are among the top five countries in the world with the most unreached people groups
Distributing Aid to Those in Need
CAMA collaborated with partners from South Asia, Hong Kong, Canada, the Chinese Churches Association, the Metro District, and more to provide aid and gospel access to those among the least reached. Local churches distributed COVID-19 relief in various forms to neighbors in need. Volunteers organized and distributed food packets to day laborers, the marginalized, and the blind. Hot meals were made for the homeless. Others received a small cash stipend to pay for food, necessities, and medical bills. In one city, CAMA partnered with local Christian medical professionals to set up a field hospital to address the overflow of patients from nearby hospitals. In another location, CAMA provided O2 concentrators and nebulizers. In yet another country, CAMA partnered to help set up the first and only isolation center for the disabled.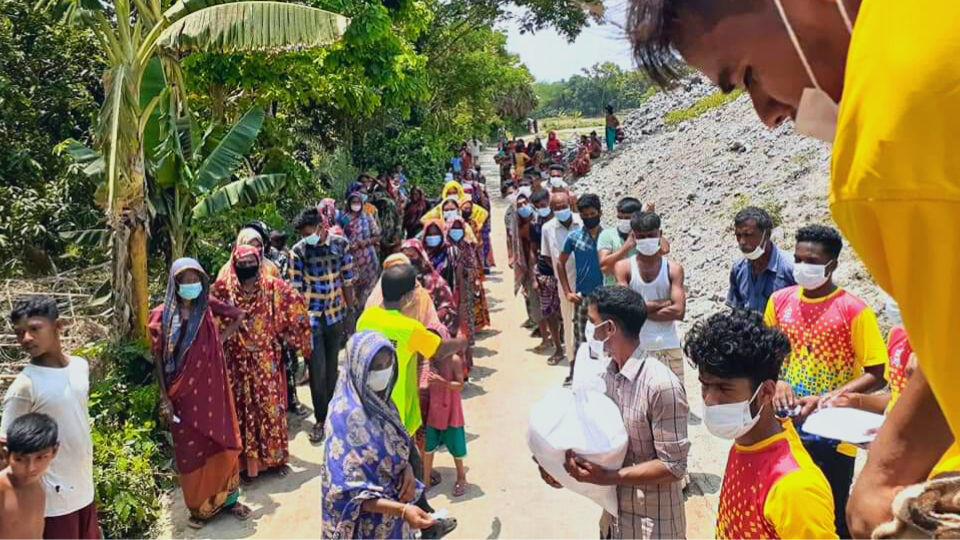 Giving Gospel Access
These practical expressions of love to those in need created opportunities for both local pastors and believers to establish relationships and share the eternal hope found in Jesus. In one location, a local pastor invited a CAMA staff member to share a gospel presentation via Zoom with people his church had connected with through food distribution efforts. Over 50 devices, many with multiple families watching through one device, were able to receive a power point presentation on the gospel from Creation to Christ's death and resurrection. Since then, the local church has turned the presentation into a booklet for church members to use while sharing Christ's love with their friends and family. The pastor has also sent us updates on people coming to Christ and on people who have expressed interest in learning more about Jesus. While most of the world was experiencing some sort of lockdown in 2021, we saw firsthand in South Asia that the gospel of Jesus Christ cannot be locked down!
Our Hope
We want to thank you, Alliance family, for partnering with us to see the gospel go forth in both word and deed to new places! As we look back at this past year, we are reminded of Paul's words in 2 Corinthians 10:16: "…But our hope is that as your faith increases, our area of influence among you may be greatly enlarged, so that we may preach the gospel in lands beyond you…"