A massive earthquake struck Nepal on April 25. CAMA sent a staff member to assess the situation on the ground and propose how we could be involved in the earthquake response. By God's grace, this worker had had nearly 10 years of experience in Nepal previously and is fluent in the language and culture. He also has a background in rural civil engineering. Below is his initial report.
CAMA provided $5,000 from the Disaster Relief Fund to a partner organization that has been working with communities in a district northwest of Kathmandu, adjacent to the Langtang mountain range. It is one of the districts that were hit hardest by the earthquake. Six days after the quake, I was able to go with staff from this organization to deliver a shipment of food to a combined target population of about 6,000 people. This delivery followed a trip the organization had made immediately after the earthquake to assess the damage and needs in those communities.
Virtually all of the houses in the smaller villages are reported to be destroyed or heavily damaged. Village houses are traditionally built using rough stone masonry with mud mortar. Unlike the concrete frame structures built in towns and cities, they cannot withstand the lateral forces of a large earthquake.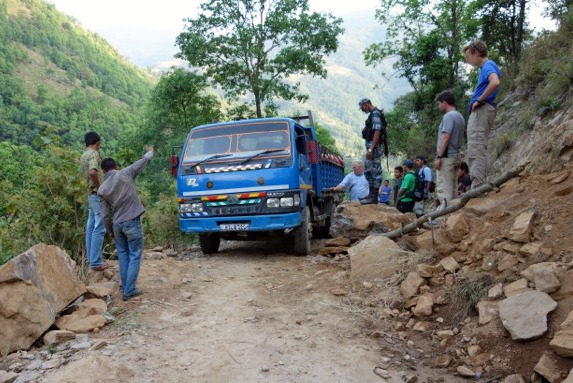 Thirty-two people from one village group were killed in the earthquake. Many were injured, and 20 critical cases had been airlifted out of that same village group to Kathmandu soon after the earthquake. Most of the villagers have no shelter at all, and their food supply is buried in the rubble of their houses. This situation is replicated in many villages across the hardest-hit districts. Besides food, the immediate needs are for temporary shelter (tents or tarpaulins), water purification, and medical assistance.
This shipment delivered 500 bags of rice (25 kg or 55 lbs. each), as well as lentils, noodles, and salt. In all it was about 15 tons of foodstuffs purchased from wholesalers in Kathmandu and a district town and funded by various organizations in addition to CAMA. We targeted four villages high in the hills and away from the main transport arteries. It took six hours over treacherous roads to reach the location.
Foreign and local staff coordinated the shipment. A short-term team from Denver helped to load the trucks in Kathmandu, and some of their young men also came to help with the distribution. Prior liaison with district officials had already happened, and the chief district officer sent a police escort to help with the distribution.
It took about two hours to organize and carry out the initial distribution. By that time it was getting dark, so the remaining stock was offloaded and turned over to the village leaders to be distributed in the coming days.
The gratitude and enthusiasm the villagers showed as they picked up their rice and other food was obvious. Since our partner organization has been working in the area for several years, they already had established relationships with the local people and government officials. It was great to see the faith, commitment, enthusiasm, and teamwork they showed in grappling with all the problems and issues that need to be handled in an operation like this.
It's difficult to imagine the scope of the needs in many villages all across the hills and ranges. But we left this village group feeling that, for these communities at least, our work and effort had made a real difference. I am proud that CAMA and its supporters could be a part of that. We trust and pray that the life and hope we have in Jesus may be extended to many communities in Nepal.
CAMA is currently evaluating how we can best serve those impacted by the earthquake in Nepal. We are grateful to partner with the organization mentioned above, and we recently learned of a similar opportunity with another like-minded organization. Beyond these effective partnerships, we are seeking direction to know if we should send short- and/or long-term staff to Nepal.