In all the tragedies of recent North American disasters, Mexico experienced the greatest loss of life.
An 8.2-magnitude earthquake on September 7 shook Mexico's two poorest states—Oaxaca and Chiapas. Twelve days later a second earthquake devastated Mexico City. The two disasters killed more than 420 people and damaged over 153,000 homes.
CAMA is responding by assisting the Mexican Alliance national church working in Juchitán, Oaxaca—a poor, largely indigenous city severely damaged during the first earthquake. In Juchitán alone, more than 5,000 homes were destroyed. John Howard, an Alliance international worker in Mexico, recently traveled to the area.
Here is what he saw and learned:
Pastor Frank Diaz, Pastor Ruben Luna, and I traveled to the city of Juchitán, Ixtaltepec, and other smaller areas that were affected by the earthquake. Damage in downtown Juchitán is extensive. Hundreds of homes have either been destroyed or condemned, waiting to be torn down.
Thousands of people are homeless and many are now living in tents set up in front of their damaged homes. The same has occurred in the surrounding areas. The result of this damage has caused a slowdown in most economic activity and many people are now jobless, complicating the situation.
Local Alliance churches are helping to collect and distribute aid. A semi-truck packed full of supplies from the Reynosa Alliance Church, located about 800 miles away, arrived while I was there. Pastor Ruben Luna, who lives in the area, is delivering aid to local pastors who then distribute supplies in their communities. He and church volunteers are also taking trips up in the mountains to pass out food, clothes, and supplies.
After consulting with Pastor Ruben Luna, as well as observing the general situation of the area, there remains a great need for basic supplies such as food, water and shelter. Although supplies are arriving in Juchitán, it is apparent that it is not enough to meet everyone's needs.
Alliance churches hope to continue to meet basic needs of their community until the area is back on its feet. They would also like to begin a second phase that would involve the construction of new homes. The government is offering a small supplement to aid in rebuilding homes, and the Mexican Alliance church is hoping to participate.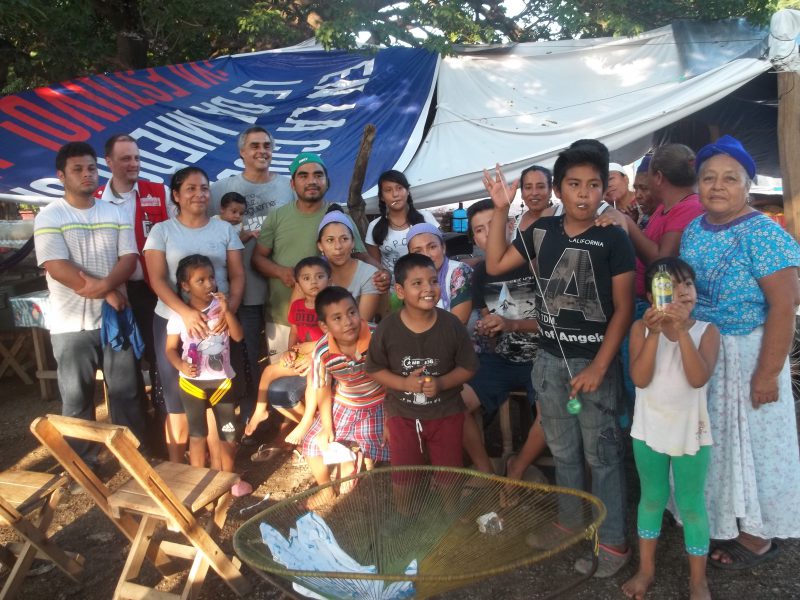 One story I would like to mention is about a man named Wilbur. His family owned two houses that were completely flattened in the earthquake. His daughter and son-in-law lived in one home with their two children. As the quake hit, the son-in-law helped his wife and one of his children escape the house. The second child was inside screaming for help and her father went in to pull her out. In an instant the house fell, killing them both.
I talked with Wilbur and as he told the story, it was unbelievable to see his hurt and yet his faith. He told me God is faithful and good, even in tragedy. He knows God did not abandon his family. His is a testimony of trust in a sovereign God.
He and his family of about 15 people received a tent on the day I visited. They will be able to use the tent to sleep in and to protect some of their personal belongings. He was grateful for what God is doing in his family's life and the fact that God has not abandoned them.
Continue to pray for the city of Juchitán, for Wilbur and his family, and for our Mexican Alliance family. You can support their continued relief work by giving today.