The following was sent by Buzz Maxey, a CAMA worker in Papua, Indonesia.
"We played 39 soccer games, hosted 15 coaching sessions and tournaments for kids, gave 14 AIDS awareness presentations, and experienced 3 days of peace training together. The best part about it was that people from diverse cultures, races, and religions all came together around their passion for soccer."
A year went into planning the Selamat Tour 2015, a project of the Papua United Football Club. The communication required to set up multiple sites across Indonesia, coordinate with many different partners, and book numerous flights was complicated. It took countless hours of training and long work days for team members to raise the necessary funds. We ordered equipment, printed uniforms, practiced AIDS awareness dramas, and enlisted a two-man video team.
The team came together with three goals for the six-week Selamat Tour: peace, love, and soccer. We wanted to build peace, with love, through the game of soccer.
The Western team was made up of American, Canadian, and Spanish soccer players from Toccoa Falls College. They traveled to Papua, Indonesia, where they were joined by local players from the Papua United Football Club (read more about the club's activities here). The united team ate, slept, served, and played competitive games together against local teams in five different Indonesian cities. Language barriers, tropical heat, and unique foods presented challenges; and different styles of play and coaching caused frustration at times, but in the end everyone learned together and a strong sense of unity grew among the team.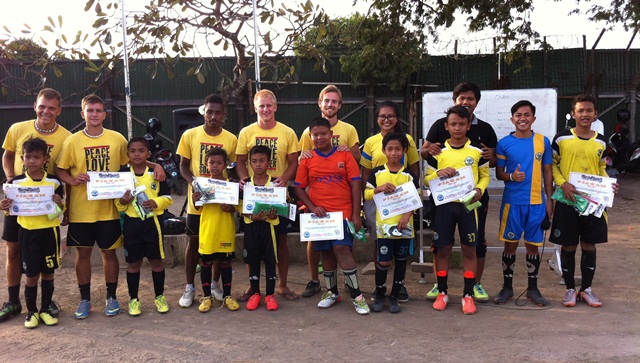 After matches, the team visited small, remote island villages to share AIDS awareness information. The villagers sat on fields lined with coconut trees as they listened to lessons that emphasized purity and faithfulness along with grace and hope. The team also provided English language teaching, and partners offered dental care to some of the young players. At almost every site, character development games proved to be a great way to communicate positive life skills. We noticed adults listening intently as their children participated in the sessions.
Not only did the Indonesian kids benefit from the tour, but the team members gained much as well. Some of their comments include:
"I learned to be more courageous speaking in front of people."
"I've become more convinced that soccer can be a significant tool in impacting the lives of young people."
"I loved eating, sleeping, praying, playing, and laughing together with my Indonesian brothers. We became family."
"We've been a unified and loving team on the pitch, and other teams notice that we are different."
One player even shared that he had never witnessed the kind of love and acceptance that he experienced on the Selamat Tour.
We spent one week supporting a peace camp. Over 60 soccer players from different ethnic, religious, and racial groups were divided into teams that competed for the "Kick for Peace" cup. Making each team religiously and ethnically diverse did an amazing thing. Players began to realize how much they actually had in common with each other, and they were astonished at how intimate everyone grew in such a short time. It was heartwarming to watch the group unite around a sport they all love.
On the last day, team members said their difficult farewells and prepared to head home. As I watched them hug each other and make their tearful goodbyes, a deep satisfaction filled my heart. I was convinced once again that the money, time, and energy invested had all been worth it. The bonding that took place was amazing; the character built was life changing.
I have seen again the tremendous, unifying power of sport that is able to break down barriers between religions, nations, and races. People from all over the world can indeed come together and build peace, with love, through soccer.
Thank you to all who supported the Selamat Tour with your prayers and gifts.